Provide Aromatherapy – Character Perfume Creation Session
What Skillset do you wish to acquire?
Provide Aromatherapy – Character Perfume Creation Session
Course Overview
Aromatherapy Course
In this aromatherapy course, you will learn what essentials oil are, how to use them and pick up the blending technique in massage.
Course Title
Provide Aromatherapy
What is Aromatherapy?
Aromatherapy is the use of essential oils to improve your health, and is a popular complementary and alternative therapy that has existed for thousands of years.
Some benefits of aromatherapy are the positive effects that it has on the immune system, and its ability to alleviate insomnia, among other benefits.
What ARE essential oils?
Essential oils are the volatile organic compounds that are extracted from plants through processes such as distillation or cold pressing. These compounds carry the scent and essentially, the "essence" of the plant. These essential oils are further concentrated and mixed with carrier oils to create a product that can be sold.
Course Objectives: Perfume Creation Course / Aromatherapy Training
On completion of this unit, participants will have the knowledge and skills in providing aromatherapy and be able to apply them at the workplace. These include:
Carry out pre-treatment activities
Consult with client
Perform aromatherapy
Carry out post-treatment activities
Provide Aromatherapy – Character Perfume Creation Session

Course Content: Aromatherapy Course

Aromatherapy and Basic Aromatherapy Techniques
Usage of Aromatherapy Tools
Essential oils and their use in Aromatherapy
Developing Essential Oil Profiles
Blending Techniques for Chemical Substances
Application of Aromatherapy

Home use
Office, Car & Gym use
Animals

Safety Considerations

Flammability & Irritability Hazards

Certification

Participants who fulfil all requirements will be certified with a Certificate issued by WISC – Workforce International skills certification.

Interested to learn more Spa & Massage skills? Check out our Spa & Massage courses.
Course Feature

Course Feature

Course Provider: To be Advised
UEN: To be Advised
Course Reference Number: To be Advised
Mode Of Training: Classroom
Funding Validity Period: To be Advised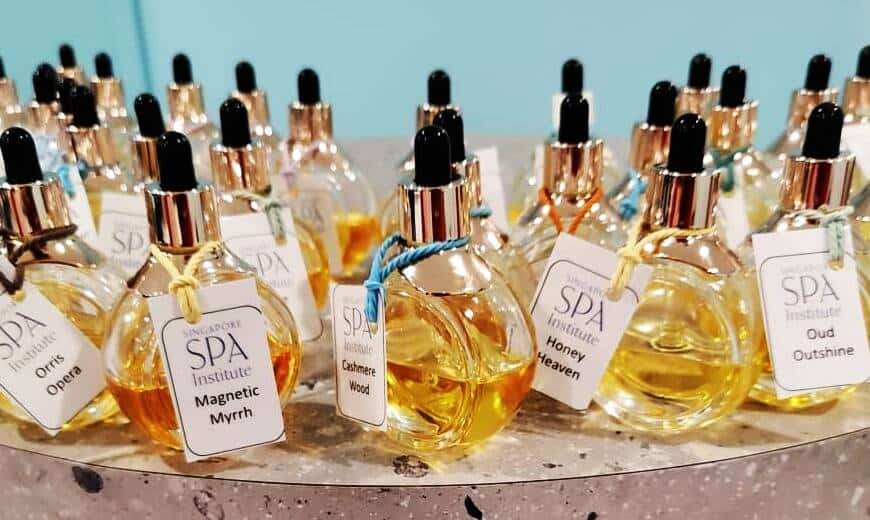 Provide Aromatherapy – Character Perfume Creation Session
| FULL COURSE FEE | To be Advised |
| --- | --- |
| Duration | 1 Day |
Available in: English
Contact Us On Whatsapp
Contact Us Now On Whatsapp
+65 6255 5584