WSQ Higher Certificate in Food Services (Culinary Arts)
What Skillset do you wish to acquire?
WSQ Higher Certificate in Food Services (Culinary Arts)
Course Overview
Professional Certification in Culinary Arts
The course curriculum is developed to ensure industry relevance, in consultation with industry leaders, curriculum development experts, and culinary trainers with a sea of experience in the Singapore context. The course is aimed to groom work-place-ready culinarians with industry-relevant skills.
The current proposed course will have a blended learning methodology that involves two classroom projects, where they cook a full meal in a restaurant service environment during events and services to invited guests and Chefs. This learning method will reinforce their learning from the traditional lecture-demonstration-hands-on practice method
Course Title
WSQ Higher Certificate in Food Services (Culinary Arts)
Course Objectives
This 5-week long 'WSQ Higher Certificate in Food Services (Culinary Arts)' is designed to train aspiring culinary professionals and groom them to be industry ready. The course is structured to provide a holistic learning experience on the skills, knowledge, and attitude to join the Food Service industry at the level of a 'Senior Cook/ Station Chef'. The kitchen assistants in the industry may use this course as a certification to upgrade their skills and move up in their careers. The Technical Skills and Competencies align with the WSQ Skills Framework for Food Services.
Training Provider shall facilitate job placements with industry partners for successful candidates if they meet the recruitment criteria of individual F&B organizations. The Academy has a robust network of employment partners to ensure best-fit job placement in cafes, restaurants, hotels, catering units, etc.
WSQ Higher Certificate in Food Services (Culinary Arts)

Course Content

The modules are sequenced to ensure progressive learning of culinary competencies from Food safety, understanding ingredients, food preparation, and cooking techniques

Food Safety Course Level-1: The learners will acquire the ability to adhere to food safety and hygiene procedures and policies, while also ensuring the cleanliness and maintenance of the kitchen.
Basic Western Dry Heat Cooking Techniques: The learners will gain knowledge of Western cuisine ingredients and techniques. Egg cookery and techniques in breading and batter frying are some key skills in this module.
Intermediate Asian Food Preparation: The learners will understand Asian ingredients and core skills such as wok cooking. The focus is also on Asian herbs, spices and making dishes using curry pastes made from scratch.
Fish and Seafood Preparation and Cooking: Filleting fish, and fabricating prawns and squid are the key learning outcomes from this module. Additional skills and dishes involve pan-fried fish, crumb-frying squid, tempura prawns, seafood pasta, etc.
Meat and Poultry Preparation and Cooking: In 3 days, learners will gather skills in fabricating and cooking beef, lamb, and chicken. The cooking skills involve grilling steaks, making roasted lamb, preparing beef sliders, Moroccan couscous, Kong Pao Chicken, Chicken rice, etc.
Intermediate Western Dry Cooking Techniques: The module builds on the foundational cooking skills gained in the earlier modules. In 4 days, the focus will be on planning dishes, plating, and presentation. Apart from learning sandwiches and burgers, learners master classic Western dishes such as ratatouille, pommes dauphinoise, etc. This module involves a classroom project where students plan and serve a 3-course dining experience to Academy's guests.
Intermediate Western Moist Cooking Techniques: This module teaches fine cooking skills such as en papillote, poaching, braising, etc. Apart from learning pasta sauces, learns to do soups and classic stews here. This module also involves the classroom project where students serve a 3-course menu with different dishes.

Minimum Entry Requirement

Be at least 16 years old
Have completed Primary 6 or equivalent level of education
Able to understand, speak, read, and write basic English

Target Audience

Aspiring culinarians who want to go on a fast track to be a professional Chef while gaining a Nationally accredited WSQ qualification
The kitchen assistants/ helpers in the industry, may use this course as a certification to upgrade their skills and move up in their careers.
Culinary enthusiasts who want to learn professional techniques and gain a deeper knowledge of ingredients, cuisines, and cooking.

Course Training Duration

Total 120 in-class training hours.

5 Weeks (Full Time) – 8.00 am – 5.00 pm – Monday to Thursday per week

10 Weeks (Part-Time) – 6.30 pm – 9.30 pm – Thursday and 9.00 am – 6.00pm Saturday only

Mode of Assessment

Practical Examination (Skills Assessment)

Written Examination (Knowledge Assessment)

Certification

Participants who fulfill all requirements will receive:

WSQ Higher Certificate on Food Service (Culinary Arts) by SkillsFuture Singapore
Statement of Attainment (SOA) in Food Safety issued by SkillsFuture Singapore (SSG).

If you are interested in other Food and Beverage or F&B Industry courses, you can check out our SkillsFuture Food and Beverage Making and Basic F&B Requirement Courses.
Course Feature

Course Feature

Course Provider: HCSA COMMUNITY SERVICES
UEN: S97SS0023J
Course Reference Number: TGS-2023018157
Mode Of Training: Face to Face
Funding Validity Period: 17 Jan 2023 – 16 Jan 2025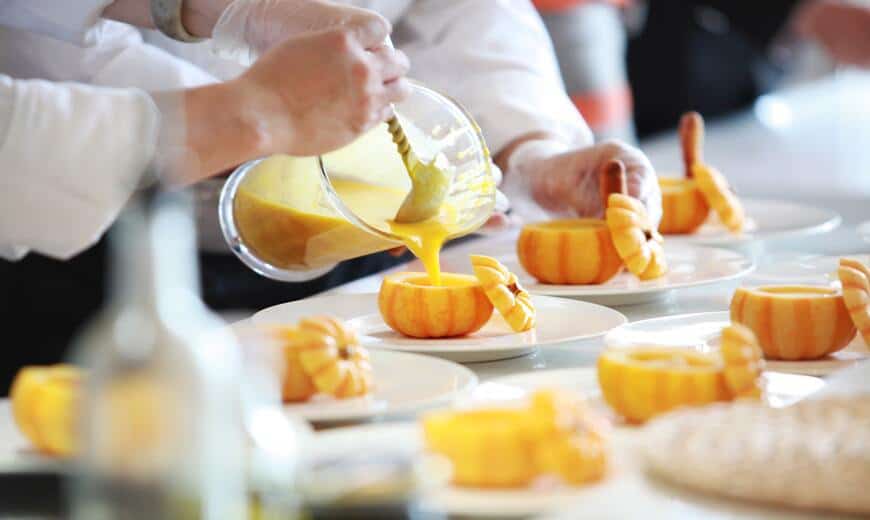 WSQ Higher Certificate in Food Services (Culinary Arts)
| FULL COURSE FEE | $5000.00 |
| --- | --- |
| Singaporean 40 yrs and above | $1500.00 |
| Singaporean 21-39 yrs / PR | $2500.00 |
| Duration | 120 hours |
Available in: English
Contact Us On Whatsapp
Contact Us Now On Whatsapp
+65 6255 5584