Perform Basic Cleaning of Washrooms
What Skillset do you wish to acquire?
Perform Basic Cleaning of Washrooms
Course Overview
Washroom Maintenance
Course Objectives
Washroom Maintenance or Perform Basic Cleaning of Washrooms, a module in WSQ Environmental Cleaning, improves the cleaning workforce knowledge and skills in handling the manual general daily cleaning of washrooms.
WSQ Environmental Cleaning is a WSQ framework designed for the cleaning industry. The training in this framework are designed to help workers in the cleaning industry improve their employability as well as progress in their careers. Eligible for SkillsFuture Credit & SkillsFuture Subsidy.
执行洗手间基本清洁技能是国家环境局环境清理技能资格框架里的一个培训课程。课程帮助清洁工人提高处理洗手间日常清洁的知识与技能。
Course Title
Washroom Maintenance (CW L1)
Perform Basic Cleaning of Washrooms

Course Content of Washroom Maintenance

At the end of the course, the learner is able to:

Prepare for work activities
Remove dust, debris, soilage, and spillage from sanitary fixtures and fittings, toilet wall partitions, and toilet floor
Clean Toilet Floor Clean Toilet wall/partition and surfaces with high user contact
Replenish consumables items in sanitary area Reinstate work area

Cleaning Certification

Upon being assessed as "Competent", learners will be awarded a WSQ Statement of Attainment (SOA).

培训完成能获新加坡劳动力发展局凭证。

Other Courses offered by Coursemology for WSQ Certificate for Environmental Cleaning

The participant who completes this module PLUS the following 4 modules will be awarded the WSQ Certificate of Environmental Cleaning.

More about WSQ Environmental Cleaning

For more information, please visit WSQ Environmental Cleaning Courses.
Course Feature

Course Feature

Course Provider: BeSpoke Solution Training Consultancy Pte Ltd
UEN: 201204263N
Course Reference Number: TGS-2022011638
Mode Of Training: Classroom
Funding Validity Period: 19 Feb 2022 – 18 Feb 2026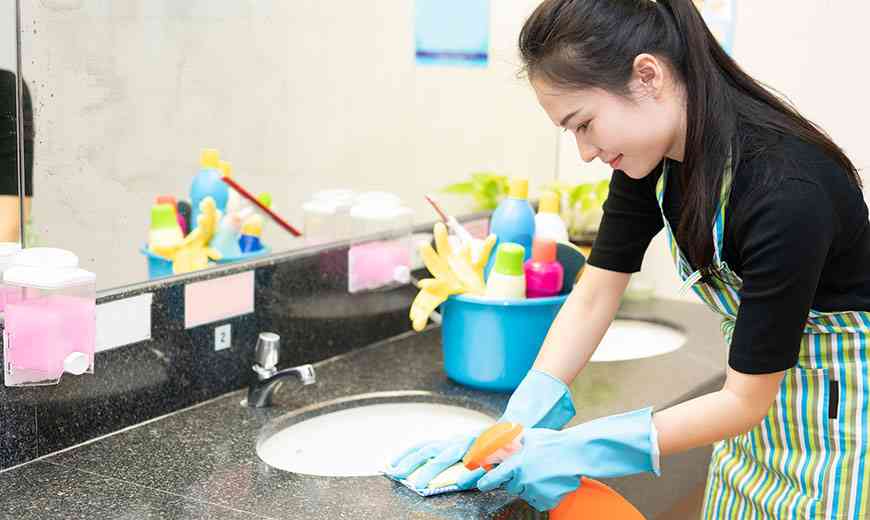 Perform Basic Cleaning of Washrooms
FULL COURSE FEE
$410.40
Singaporean 40 yrs and above
$144.40
Singaporean 21-39 yrs / PR
$220.40
Duration
3 Days
(17 hours)
Available in: English
Contact Us On Whatsapp
Contact Us Now On Whatsapp
+65 6255 5584