Provide Quality Service – Customer Management
What Skillset do you wish to acquire?
Provide Quality Service – Customer Management
Course Overview
Cleaning Services Training Course – Customer Management
Customer Management (Level 1) is also known as Provide Quality Service or Cleaning Services Training course is a module in WSQ Environmental Cleaning to improve the cleaning workforce's knowledge, skills and attitude in their services. This includes maintaining good personal grooming and hygiene standards, proper interactions with customers and provide quality service delivery. This is also aligned with the government's plan to upgrade the image and professionalism of the cleaning workforce.
Course Title
Customer Management (Level 1)
Provide Quality Service – Customer Management

Learning Outcome

At the end of the course, you will be able to:

Demonstrate personal care and hygiene habits.
Address customer needs and expectations according to company requirements.
Clarify details of urgent customer needs and degree of urgency with a customer.
Identify potential difficulties in service delivery and the appropriate action to take according to legislative and company requirements.
Raise information relevant to service challenges.
Respond to service challenges appropriately according to the nature of the challenges and service recovery procedures.
Identify possible solutions to service challenges and assess the likelihood of associated problems using available information.

What will you learn in the Cleaning Services Training course – Customer Management

Unit 1: Keeping Customers Happy

Personal Care and Hygiene
Professional and Positive Image
Attitude versus Behaviour
Customer Needs and Expectations
Principles of Effective Communication
Active Listening and Empathy

Unit 2: Health and Safety, and Regulation

Cleaning Tools and Equipment
Industry Standards and Regulatory Requirements
Organizational Requirements and Procedures

Unit 3: Ensuring Quality of Service

Escalate Service Challenges
Problem-Solving Tools and Techniques
Respond to Service Challenges

Assessment

Oral Questioning
Roleplay

Certification

You will receive a WSQ Statement of Attainment (SOA) upon successful completion of this module and its assessment.

Entry Assessment

21 years and above.
Speak, listen, and read English at a proficiency level not lower than Workplace Literacy (WPL) Level 1, and manipulate numbers at a level not lower than Workplace Numeracy (WPN) Level 1.
Never attended school; pre-primary / kindergarten education; primary education without Primary School Leaving Certificate (PSLE) / Primary School Proficiency Certificate (PSPE) or equivalent; PSLE / PSPE or equivalent.
Less than 1 year of work experience in the environmental services industry as a General Cleaner.

Other Courses Offered by Coursemology for WSQ Certificate for Environmental Cleaning

The participant who completes the following 5 modules will be awarded the WSQ Certificate of Enviromental Cleaning.

For more information, please visit WSQ Enviromental Cleaning Courses.
Course Feature

Course Feature

Course Provider: BeSpoke Solution Training Consultancy Pte Ltd
UEN: 201204263N
Course Reference Number: TGS-2021002357
Mode Of Training: Classroom
Funding Validity Period: 01 Feb 2021 – 31 Jan 2025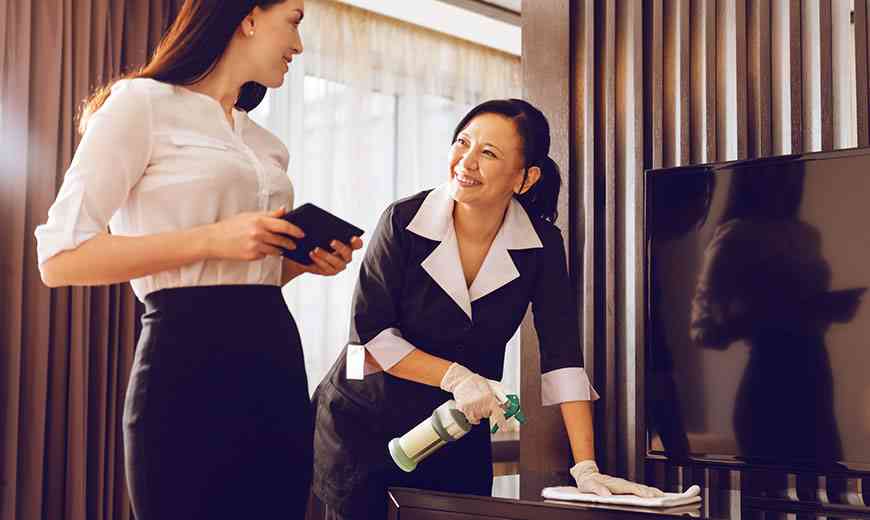 Provide Quality Service – Customer Management
| FULL COURSE FEE | $194.40 |
| --- | --- |
| Singaporean 40 yrs and above | $68.40 |
| Singaporean 21-39 yrs / PR | $104.40 |
| Duration | 7.5 hours (1 day) |
Available in: English
Contact Us On Whatsapp
Contact Us Now On Whatsapp
+65 6255 5584