Provide Seated Chair Massage
What Skillset do you wish to acquire?
Provide Seated Chair Massage
Course Overview
Chair Massage Course
Course Title
Provide Seated Chair Massage
What is Seated Chair Massage
Seated Chair Massage is a style of short massage – typically 10 or 15 minutes – and focuses on back, shoulders, neck and arms. Seated in a special chair with face resting in a cradle, the massage is done over clothes and doesn't require any massage oil. Chair massage is similar to table massage in most ways, except that instead of laying on a table, clients kneel in a specialized chair equipped with a pad and face cradle to support their head and chest. Most chairs come with extendable armrests for enhanced upper bodywork, and they're fully adjustable for height and comfort.
Chair Massage Training
In this Chair Massage Course, learners will gain the knowledge and application skills in providing seated chair massage. After this massage course, learners will be able to apply seated chair massage service at spa or massage workplaces.
This hands-on training is recommended for those who wish to know more about our body systems and acquire a mastery of the classical massage techniques.
Course Objectives
To equip therapists with knowledge and application skills to provide Seated Chair massage at a spa or massage establishment.
Provide Seated Chair Massage

What will you learn

Ensure a safe and hygienic workplace, provide a suitable environment for seated chair massage.
Muscles and location of stress points of the neck, shoulder and back.
Sequence & steps in seated chair for stress management, types and effects of different massage movements on the neck, shoulder, back and upper limb.
Consult with client on suitability, check for contraindication by reviewing purpose of treatment & update client profile.
Safe and effective practice, contraindication such as skin conditions and disorders.
Suitable after care advice to sustain the effects of treatment.

Who should take this course

Apply to equip therapists with knowledge and application skills to provide seated chair massage at a spa or massage establishment.

Benefits of Seated Chair Massage

1) Stress Reduction

Research consistently shows that massages relieve stress. Just a single session has been shown to reduce high levels of fight-or-flight hormones while releasing the natural endorphins that improve mood and promote feelings of calm. Periodic massage sessions can help reduce stress on a continued basis. Many offices offer chair massage for this very reason.

2) Enhanced Circulation

Massage stimulates the flow of both blood and lymphatic fluid. Massage improves vascular function almost as well as exercise. Because blood carries oxygen and vital nutrients, circulation nourishes the entire body, including the brain. Science shows a direct correlation between circulation and cognition.

3) Pain Relief

Massage has shown to decrease the symptom severity of conditions such as knee tendinitis and Carpal Tunnel Syndrome. In many cases, the effects are as successful as other interventions, including anti-inflammatory medications and surgery. Because it's low-risk and non-invasive, it also eliminates the worry of complications. Many patients who've tried massages for pain relief say they're mostly effective, and most plan to continue.

4) Improve Mental Well Being

Massage has a direct impact on the brain chemicals that regulate mood by lowering stress hormones, like cortisol, while boosting feel-good neurotransmitters including, serotonin, oxytocin and dopamine. The result is a feeling of well-being and sharper mental focus.

5) Convenience

One of the most overlook benefit of Chair massage is its convenience. It can be done almost everywhere as there is no need to find a bed or a room to conduct this type of massage. For this reason, many offices deploy seated chairs for head massage especially during breaks times.

Certification

Participants who fulfil all requirements will be certified with a Certificate issued by WISC – Workforce International skills certification.

You may be interest in Infant Massage Course and Full Body Massage with Oil Course. See Other Spa & Massage Courses.
Course Feature

Course Feature

Course Provider: To be Advised
UEN: To be Advised
Course Reference Number: Private
Mode Of Training: Classroom
Funding Validity Period: Private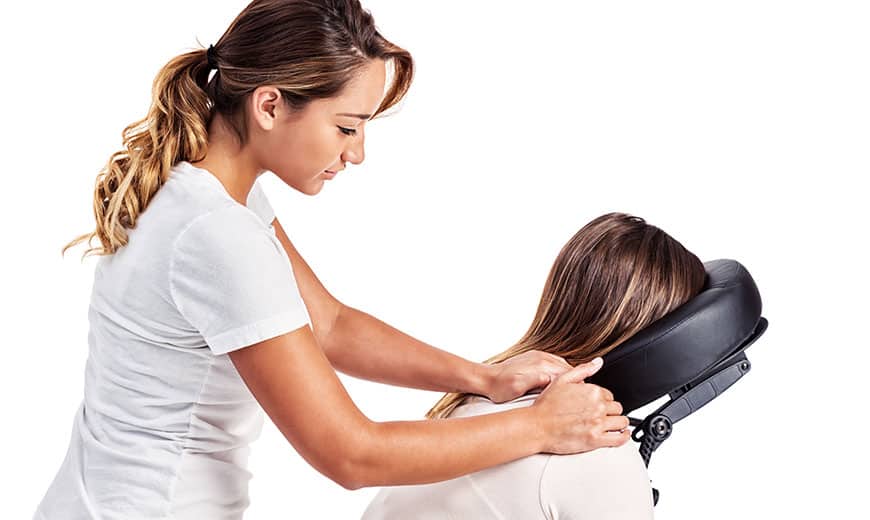 Provide Seated Chair Massage
FULL COURSE FEE
To be Advised
Duration
4 Days
38 Hours)
Available in: English
Contact Us On Whatsapp
Contact Us Now On Whatsapp
+65 6255 5584