Basic Cardiac Life Support (BCLS) and AED (Instructor Course)
What Skillset do you wish to acquire?
Basic Cardiac Life Support (BCLS) and AED (Instructor Course)
Course Overview
BCLS (CPR + AED) Singapore (Instructor Course)
BCLS + AED instructor course is specially designed for learners who wish to embark on a journey of imparting their knowledge of first aid to others. You will learn important skills such as principles of learning and facilitation, and instructional methods that will bring value to your training. Basic Cardiac Life Support and AED is a nationally certified course and the guidelines are set by Singapore Resuscitation and First Aid Council (SRFAC).
Development Pathway:
BCLS + AED provider → BCLS + AED instructor → BCLS + AED chief instructor
Why is CPR and AED usage learned in conjunction?
When CPR is performed, its purpose is to mimic the action of the heart and continue pumping blood through the body — transporting oxygen to the brain, thereby keeping it alive.
On the other hand, the purpose of the AED is to send electric shocks through the body in an effort to jumpstart the heart, allowing it to continue pumping blood to the brain.
Therefore, in the event of Sudden Cardiac Arrest (SCA) where there is a sudden loss of heart function, breathing & consciousness, both CPR and AED are required to ensure blood movement when the heart has ceased pumping and to restart the heart, respectively.
Course Title
Basic Cardiac Life Support Automated External Defibrillation Instructor
Course Objectives: BCLS (CPR + AED) Instructor Course
By the end of this course the trainee-instructor should be able to:
Exhibit the characteristics required of an SRFAC-accredited instructor and be a role model in the provision of the skill.
Conduct courses in a manner that helps participants stay engaged in the learning progress.
Be aware of the need to ensure participants' health and safety during training.
Understand the need to maintain complete and accurate records and reports.
Planned, organized, and conducted the BCLS+AED course in accordance with SRFAC guidelines.
Monitor participants' practice and provide corrective feedback and encouragement that is consistent with the standards of performance expected.
Recognize that the theory and practical assessments are to test the provider's understanding of the key steps in the skill and ability to carry out the skills in accordance with the standards laid down by the SRFAC.
Basic Cardiac Life Support (BCLS) and AED (Instructor Course)

Course Content: BCLS (CPR + AED) Instructor Course

Adult Cardiopulmonary Resuscitation
Adult Relief of Foreign Body Airway Obstruction
Child Cardiopulmonary Resuscitation
Child Relief of Foreign Body Airway Obstruction
Infant Cardiopulmonary Resuscitation
Infant Relief of Foreign Body Airway Obstruction
Application of Automated External Defibrillator (AED)

Who Should Attend

Healthcare Professionals
Individuals who are interested to become BCLS + AED Instructor
The Basic Cardiac Life Support + AED (BCLS + AED) course is a mandatory training course for BCLS + AED instructors-trainers. They have to attain the BCLS + AED certificate before they are eligible for instructor-trainer.

Entry Requirements

Valid BCLS provider certificate upon registration of instructor course
Minimum of 2 training attachments

BCLS Certification

BCLS + AED instructor certification will be issued after this course (Valid for 2 years)

If you're interested to learn more emergency first aid procedures/ attain the relevant certification, see our other First Aid Courses →
Course Feature

Course Feature

Course Provider: Medlink Healthcare Group Pte. Ltd.
UEN: 201703314W
Course Reference Number: TGS-2023019465
Mode Of Training: Classroom + 2 Attachments
Funding Validity Period: 11 Mar 2023 – 19 Jan 2025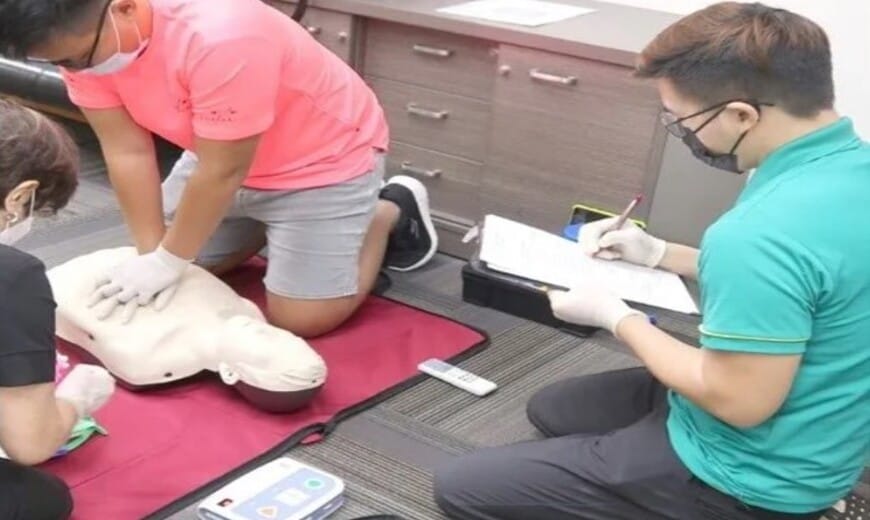 Basic Cardiac Life Support (BCLS) and AED (Instructor Course)
| FULL COURSE FEE | $356.40 |
| --- | --- |
| Singaporean 40 yrs and above | $125.40 |
| Singaporean 21-39 yrs / PR | $191.40 |
| Duration | 1 day (8 hours) + 2 Attachments |
Available in: English
Contact Us On Whatsapp
Contact Us Now On Whatsapp
+65 6255 5584