Child First Aid Course + BCLS AED
What Skillset do you wish to acquire?
Child First Aid Course + BCLS AED
Course Overview
Childcare First Aid Training Singapore (Blended)
Child First Aid Course (CFA) trains Singapore infant and childcare workers, childcare providers, and early childhood education (ECE) teachers in CPR and first aid for children. These CPR and first aid classes are also suitable for anyone taking care of infants, babies, toddlers, and kids of preschool age.
Child First Aid course is a compulsory course for childcare and preschool professionals under the Early Childhood Development Agency's licensing framework. The goal of this course is to provide relevant knowledge and skills in rendering first aid treatment to a child, toddler, or infant during any emergency at the childcare centre or preschool.
The course syllabus has been updated as of 1st June 2020. Learners will now attain 3 different first aid certifications upon completion of this course.
To renew the child first aid certificate, please see Child First Aid Refresher course. Other first aid courses are also available.
Child First Aid Certification
Child First Aid certificate accredited by the National Resuscitation and First Aid Council will be issued (Valid for 2 years for single license)
Course Objectives
This course provides the relevant knowledge and skills needed to first aid to an adult, a child or infant during any medical emergency that might arise at the childcare, pre-school centres or even at home.
Provide learners with safety information and standards for children and infants in Singapore
Prepare learners with the necessary skills in identifying, planning and managing a medical emergency at home or in school
Equip learners with the skills in rendering first aid for injuries and medical emergencies arising from common accidents among infants, children and adults
Equip learners with the skills in providing effective resuscitation (CPR) to an adult, child and an infant during medical emergencies
Course Title
Child First Aid (Asynchronous E-Learning)
Child First Aid Course + BCLS AED

Course Content

Essentials of First Aid
Unconscious Casualty (Non-Cardiac Arrest)
Respiratory Problems
Shock, Bleeding and Wounds
Musculoskeletal Injuries
Burn Injuries
Other First Aid Knowledge
CPR AED

Entry Requirements

Physically healthy and able to complete course objectives
Able to speak, read and understand English effectively as our courses are conducted in English.

Target Audience

Child care teachers and workers, preschool providers, childcare courses requirement.
Course Feature

Course Feature

Course Provider: Medlink Healthcare Group Pte. Ltd.
UEN: 201703314W
Course Reference Number: TGS-2021006410
Mode Of Training: Classroom
Funding Validity Period: 05 Jul 2021 – 14 Aug 2024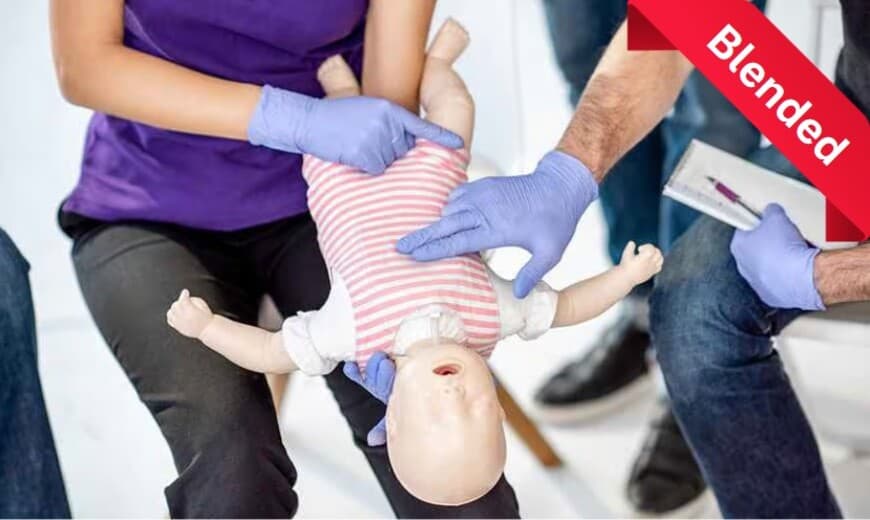 Child First Aid Course + BCLS AED (Blended)
| FULL COURSE FEE | $216.00 |
| --- | --- |
| Singaporean 40 yrs and above | $76.00 |
| Singaporean 21-39 yrs / PR | $116.00 |
| Duration | E-learning + 13 Hours |
Available in: English
Contact Us On Whatsapp
Contact Us Now On Whatsapp
+65 6255 5584