Occupational First Aid (OFA) + AED
What Skillset do you wish to acquire?
Occupational First Aid (OFA) + AED
Course Overview
Occupational First Aid Course
Occupational First Aid Course is a nationally certified course in accordance with the guidelines set by Ministry of Manpower (MOM) and National Resuscitation Council. The OFA course contains critical applications such as Medical Emergency Management, Treatment of various work site injuries, CPR skills and AED applications.
Simulated scenarios of first aid at work will be studied and analyzed in classes. Potential first aiders are expected to demonstrate and manage these situations according to the course instructions.
To renew the occupational first aid certificate, please see Occupational First Aid Refresher course. Other first aid courses include the Standard First Aid Course.
Occupational First Aid & CPR AED Certificate
Upon completion of this course, you will be issued two certificates:
Occupational First Aid (OFA) Certificate (2 years validity)
CPR + AED Certificate (2 years validity)
Course Title
Occupational First Aid
Course Objectives
This course provides the relevant knowledge and skills needed to apply first aid to adult casualties during any medical emergency that might arise and to use the Automated Defibrillator (AED) safely at the workplace.
Recognise a medical emergency situation at a workplace.
Activate the appropriate emergency response system and follow the Emergency Action Principles.
Recognize the signs and symptoms of identified emergencies, illnesses, and injuries.
Perform the necessary and correct first aid treatment to a casualty based on the emergency, illness, and injury
Perform Cardiopulmonary Resuscitation (CPR) with the use of an Automated External Defibrillator (AED) for adult victims.
Occupational First Aid (OFA) + AED

Occupational First Aid Training

Basic Principles and Practice of First Aid
Management of Medical Emergencies
Breathing Difficulties
Cardio-Pulmonary Resuscitation (CPR) and the use of Automated External Defibrillator (AED)
The unconscious patient
Wounds and Bleeding & Shock
Occupational Eye injuries
Fractures and Soft tissue injuries
Burn injuries
Handling and Transportation of the injured
First Aid Requirements
Safety and Accident Prevention
Industrial Toxicology

Who Should Attend

Appointed First Aiders where more than 25 persons are employed in a workplace. There should be at least one appointed first-aider for every 100 people or part thereof.
Safety Officers
Laboratory Technicians
Workers who operate heavy machinery, etc
Occupational First Aiders

Entry Requirements

Able to speak, read and understand English (equivalent to the ESS Workplace Literacy and Numeracy Level 5 and above standard) effectively as our courses are conducted in English.
No history of underlying medical heart and lung conditions
Physically fit with no pre-existing medical conditions such as knee, spinal or joint injury.
Pregnant ladies are discouraged from undertaking the CPR practice due to safety reasons.
Participants are required to submit their passport-size photo (.jpeg) in digital format upon receiving the confirmation email.
Course Feature

Course Feature

Course Provider: Medlink Healthcare Group Pte. Ltd.
UEN: 201703314W
Course Reference Number: TGS-2020503153
Mode Of Training: Full-Time Part Time
Funding Validity Period: 23 Oct 2019 – 26 Sep 2023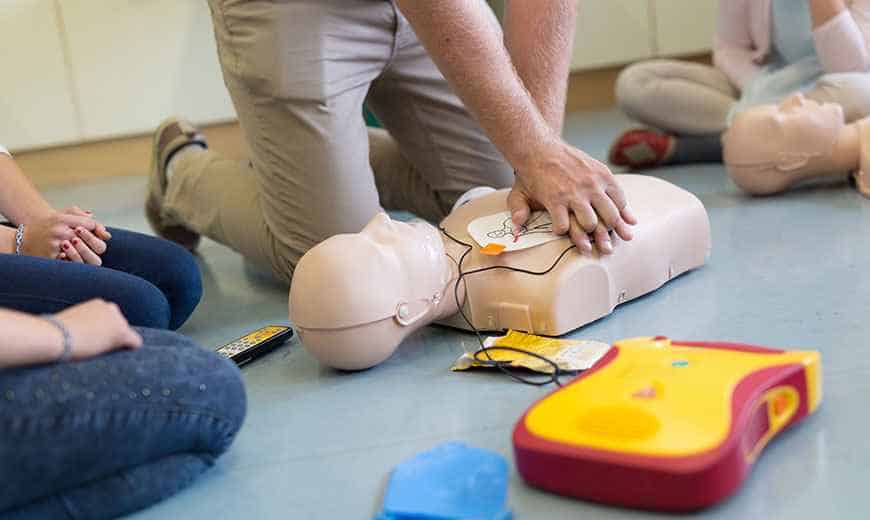 Occupational First Aid (OFA) + AED
FULL COURSE FEE
$324.00
Singaporean 40 yrs and above
$114.00
Singaporean 21-39 yrs / PR
$174.00
Duration
3 Days
(24 hours)
Available in: English
Contact Us On Whatsapp
Contact Us Now On Whatsapp
+65 6255 5584