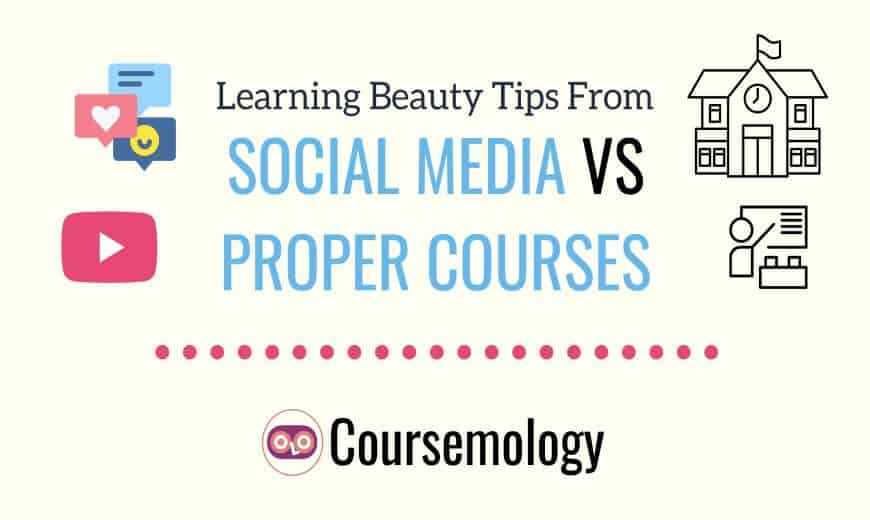 Benefits of Makeup Courses
In this article, we will talk about the benefits of learning from proper makeup courses as compared to tutorials and other self-taught channels on social media. Before we began, there is some context that you need to know.
Basic every makeup artist should know
Makeup artists are responsible for making their clients look beautiful, no matter what the occasion. The best makeup artists not only have technical skills – but also a number of other important skills that help them do their job properly. Below, we'll discuss the basic skills that every makeup artist should know.
By possessing these specific, key skills, you'll be able to find true success in the professional beauty industry!
Is doing makeup a skill?
A lot of people seem to think that applying makeup is a skill that anyone can do. Social media does portray it to be a very easy task. While it's true that literally anyone can apply makeup – not everyone can do it well.
There is a growing number of people doing makeup tutorial videos on social media these days. While some people can use their self-taught makeup techniques to start a career in the beauty industry, one simply cannot think that they have learned it all from the tutorial videos on social media.
Think about it this way: You wouldn't trust just anyone to give you a haircut, would you? The same logic applies to makeup. Just because someone knows how to put on a little foundation and mascara doesn't mean they're qualified to give you a full-blown makeover!
No, in order to be considered a skilled makeup artist, there's MUCH more than that required. And this is exactly why professional training is critical and one cannot underestimate the value of enrolling in a professional course for personal and professional growth.
What areas/subjects do you need to know to be a Makeup Artist?
In order to be a successful makeup artist, you'll need to be able to assess the client's facial features, and have a firm understanding of basic artistry and color theory, ability to do basic skin care, using essential makeup tools to apply makeup. Also, one needs to have a good grasp of hygiene practices so the client doesn't have skin issues after using the makeup service. The list can go on for the many services and skills required by a makeup artist, some of which are not fully taught or mentioned in beauty makeup tutorials on social media or it could have be easily overlooked if self-taught.
Learning Via Social Media Vs. Proper Courses
Social Media
The above-mentioned skills aren't something you can acquire by watching Youtube tutorials or following some beauty makeup social media gurus. This is because they only know how to apply makeup to their own face. They do not actually teach you the foundational knowledge required to understand how to apply techniques to other faces. Though it's nice that you can learn how to create a stunning look for yourself, clients have different face structures, features and skin tones, etc. Many of the styles taught on social media may not be applicable for most areas in the beauty industry (such as in bridal makeup, editorial makeup, SFX makeup, etc.)
Professional Makeup Training
The best way to acquire makeup skills of the professional standard is to enroll in a professional makeup training course. In a proper makeup course, you will learn from qualified instructors who have years of experience in the industry. They will be able to teach you everything from basics of color theory and artistry to more advanced techniques like how to convert morning makeup to evening makeup, including styling of hair.
In the course, you will have an adequate amount of practice as well as hands-on experience working on real models. This is critical, as it will give you the chance to put the newly-learned skills into practice and for the trainers to correct your mistakes along the way.
The right course will also arm you with an actual certification and skills when you a certified competent and graduated from the course. This will add to your resume, which will impress potential clients and prospective employers as well.
Do you need to be good at drawing to be a makeup artist?
No, you do not need to be good at drawing to be a makeup artist. If you are able to understand and visualize different types of art, it will be an advantage as it helps to create better makeup looks. However, the best way to improve your skills is still by practicing as much as possible. Practice makes perfect.
Below are some skills that all make up artists need to master:
Skin Prep
Hygiene
Color correcting
Color matching
Eyebrows
Soft skills
Listen to and understand your client's needs
Communicate effectively with your client
Build a respectful, positive rapport with your clients
Stay calm under pressure
Embrace and learn from constructive criticism
Hard skills for Makeup business
Market and promote your business
Manage your finances
Network and build relationships with other industry professionals
Set goals and create a business plan
Beauty Courses and Certificates
Find out more about our Beauty courses available for you to attain Beauty-related skills for yourself or your business
Sales Courses and Certificates
Find out more about our Sales-related courses available for you to better sell your beauty services
Digital Marketing Courses and Certificates
Find out more about our Digital Marketing courses available for you to market your beauty-related business