Customer Service Excellence with EQ and Demanding Customer Situation Management
What Skillset do you wish to acquire?
Customer Service Excellence with EQ and Demanding Customer Situation Management
Course Overview
Customer Service Excellence with EQ (Emotion Quotient) and Demanding Customer Situation Management
Learn customer service excellence with EQ and expertly handle challenging customer situations in this class.
Training Synopsis
In every profession and industry, serving customers well will definitely yield much fruit, whether at work, in customer service, or pre-and post-sales. With the new normal and the changing service-and-sales landscape to become more digitalized, customer service has taken a more varied definition and dimension.
Furthermore, with the influx of the next generation, Gen-Z, coming into the workforce and commanding more economic power as a whole, emotional intelligence (also known as EQ – emotion quotient) becomes a highly important aspect when carrying out and displaying service excellence. This course will equip one with the necessary skills to enhance one's service quality to the next level, for both short-term on-the-spot customer-serving and/or long-term client-relationship management.
That's not all – other than going through an EQ assessment to discover our level of emotional intelligence, learners will also go through a motivational type profiling assessment to find out which type of motivation will propel them to exude and execute better customer service no matter how difficult and demanding the client-serving situation is. Learners will then go on to master a simple but powerful service recovery technique that will not just help anyone recover from any demanding customer-serving situation, but also win back the customer to his or her favor. Look no further as this course will surely enhance one's service standards to the next level in whichever profession or industry one is in.
Course Title
Customer Service Excellence with EQ and Demanding Customer Situation Management
Course Objectives:
At the end of the training, participants will be able to:
Develop competence in Customer Service Excellence

Know the importance of customer service excellence and emotional intelligence, also known as EQ (emotion quotient) to success in serving customers and clients well

Post-pandemic in the new normal, and
With the influx of the next generational people, Gen Z, with their generational characteristics of being highly tech-savvy, demanding, and expected to be served fast and 24-7

Assess one's level of emotional intelligence in handling demanding and difficult situations in life and at work

Importance of Emotion Quotient (EQ) in understanding and treating others empathetically
Emotion Quotient (EQ) assessment to determine one's level of emotional intelligence
The 'S.C.O.R.E Love' Emotional Intelligence Technique

Be guided through the various customer-serving situations to achieve Customer Service Excellence

For both short-term on-the-spot customer-serving and/or long-term client-relationship management
In Phone calls, Face-to-face and Digital-online customer-serving situations

Develop competence in Managing Demanding Customer Situations

Be guided on the reasons why customers might complain and/or be difficult and demanding

From corporate regulations, and operational glitches to miscommunication and mismanagement of the serving situations, etc.

Discover one's motivational type through a profiling assessment

Importance of knowing which types of motivation exist, and which type is highly motivated by
Go through a motivational type profiling assessment (EPIC Waves Motivation TheoryTM) to determine which type of motivation will propel one to the desired goal/s or target/s.
Be guided through how to use one's motivation type to continue to display customer service excellence and factors

Be guided on the management of demanding customer situations

Using a simple yet powerful technique – the 'R.E.A.C.T' Service Recovery technique
To not just help any service personnel recover from any demanding customer-serving situation, but also win back the customer in his or her favor

Develop an Overall competence in Customer Service Excellence and Demanding Customer Situation Management at the workplace for corporate success

Putting all of the above skills learned into practice with assessment

Case studies and role-play of proposed real-life networking situations for more focused learning and direct application
Completion of course with assessment
Customer Service Excellence with EQ (Emotion Quotient) and Demanding Customer Situation Management

Benefits:

For the training, learners will

Receive a full-fledged Workbook customized to the various topics-in-training
Be guided through various customer-serving interactions to achieve service excellence: from short-term on-the-spot customer-serving and/or long-term client-relationship management, and in a phone call, face-to-face, and digital online customer-serving situations
Go through an Emotion Quotient assessment ('Total Success Multi-QuotientTm' Analytics Profiling) to find out their level of emotional intelligence to handle difficult circumstances in both life and work situations
Go through a Motivational Type Profiling assessment and tool ('EPIC Waves Motivation TheoryTM), and discover their type of motivation and corresponding propelling factors to propel them further in life and at the workplace
Be guided on how to handle and manage demanding customer situations well via the 'R.E.A.C.T' Service Recovery Technique
Be presented with a 'Step-by-Step Customer Service Recovery S.O.P in any situation' Chart for the fast, direct, and easy application of the skills learned for more focused carrying out of customer service excellence

Training Duration, Time, and Format

One full-day course and in-person training

Note: Specific training date/s can be arranged for the client if a class of a minimum of 10 pax can be confirmed

Minimum Entry Requirements

21 years and above
Possess minimally a Secondary Level and/or listen, speak, read, and write English at a proficiency level equivalent to Employability Skills System Workplace Literacy (WPL) Level 3
Use numeracy skills equivalent to the Employability Skills System Workplace Numeracy (WPN) Level 3
Minimum 1 month of working experience

Chief Trainer Profile

Joshua Luke is a multiple-award-winning Global Master Trainer and International Speaker. A Certified Triple-Master in Customer Service (IBICA, US), Etiquette (IBICA, US), Communication Consultant (CWI, AU), and Image (APICSA, SA), he has been featured as Celebrity Master Personal Branding Consultant by the media. A former Mr. Singapore, and former Official Trainer & Judge for several Miss Singapore pageants and for international pageants, Coach Luke has appeared on TV (MediaCorp Channel 8 & Channel U), in print (SPH's Straits Times newspaper, Men's Health Singapore magazine, and U-Weekly magazine), on-air (MediaCorp's 938 Live radio station) and on-demand (Starhub's Cable TV Channel). Also an MBA Graduate, he is currently in his last lap of DBA (Ph.D.) studies, completing his Doctoral thesis soon. Armed with over 20 years of experience and with all his expertise, Joshua has conducted training both in Singapore and overseas – Malaysia, China, Taiwan, Thailand, Cambodia, South Africa, etc. The list of his training clients has spanned various industries and includes public organizations like

Housing & Development Board, Ministry of Education, Ministry of Transport, Defence Science & Technology Agency, MUIS (Islamic Religious Council of Singapore), National University of Singapore, Nanyang Technological University, Singapore Institute of Management, Singapore Institute of Management, etc. and private corporations like United Overseas Bank, Shanghai-Pudong Bank, Aberdeen, AIA, Prudential, Great Eastern, Manulife, PSA Corporation Ltd, RSM Stoneforest, etc.

Other personal image courses include Professional Image and Business Etiquette with Effective Communication in Personal Branding Skills and Personal Effective Skills at Work for Self, Leadership, and Team Management with Resilience

Course Feature

Course Feature

Course Provider: Signature Image Academy International Pte Ltd
UEN: 201017041W
Course Reference Number: TGS-2023020747
Mode Of Training: Classroom
Funding Validity Period: 8 May 2023 to 7 May 2025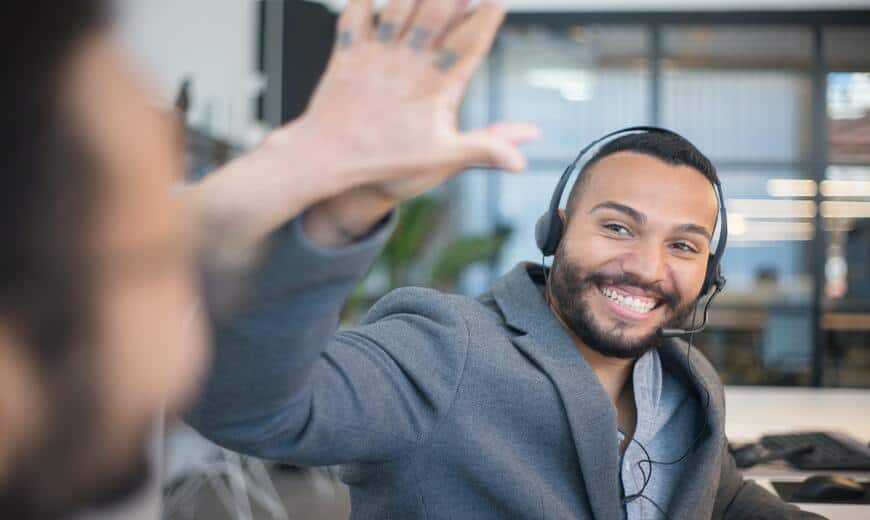 Customer Service Excellence with EQ and Demanding Customer Situation Management
| FULL COURSE FEE | $400.00 |
| --- | --- |
| Singaporean 40 yrs and above | $120.00 |
| Singaporean 21-39 yrs / PR | $200.00 |
| Duration | 1 day |
Available in: English
Contact Us On Whatsapp
Contact Us Now On Whatsapp
+65 6255 5584