Ecommerce Supply Chain, Warehousing, Logistics & Fulfilment
What Skillset do you wish to acquire?
Ecommerce Supply Chain, Warehousing, Logistics & Fulfilment
Course Overview
Managing Ecommerce Goods from Source to Customer
Course Objectives
Many businesses want to join the ecommerce revolution due to the greater outreach potential, elimination of geographical limitations and the convenience and accessibility of purchases for customers. Most training providers out in the market, however, focus only on teaching aspiring businesses how to set up online presences and conduct digital marketing; often missing out on how to optimise business operations and logistics to support the growth of their online businesses.
This course will impart strategies and techniques to plan, operationalise and review order fulfilment activities that directly support the success of ecommerce businesses.
About the Training Provider
This course is part of the Ecommerce Courses in partnership with Cantley Lifecare. Cantley Lifecare is the owner of popular Singapore ecommerce stores such as Senior Care, Honey City and Pet Food Care.
Course Title
Selling on Online Marketplaces – Ecommerce Supply Chain, Warehousing, Logistics & Fulfilment
Ecommerce Supply Chain, Warehousing, Logistics & Fulfilment

Course Content

Overview of Supply Chain Management

Explain end-to-end supply chain and the importance of supply chain management

Managing Imports and Overseas Deliveries

The ins and outs of importing

Ex-Works vs Free on Board (FOB)
Different delivery options internally within China, courier vs trucking
What is the role of a freight forwarder?
Air freight vs sea freight
Prohibited, controlled and restricted goods and how to check where to apply for licenses
Custom duties and taxation

Comparison between overseas delivery options

Postal vs Hybrid vs Courier
DHL
SingPost
Janio
DirectLink

Warehousing and Packaging

Packing Materials and Options

Polymailer
Bubble wrap
Bubble mailers/Padded envelopes
Air tube bag
Packing peanuts
Air pillows
Thermal boxes for frozen food

Shipping Labels
Warehousing

Floor plan
Inventory entrance, inventory exit
Self-Collection station
Inventory receipt documentation and process
Shelving and racks
Bins and dividers
Pallet mover/forklift, lift and ladders
Fast moving nearest to packing station
First in First Out
Safety equipment and gear
Safety markings and signages

Pick and Pack

Discrete picking
Wave picking
1 picker, 2 packer to double check orders

Inventory Management System

Periodic vs Perpetual Inventory or just have more in inventory
Square
Inventory forecasting

Managing Local Deliveries and Last Mile Fulfilment

Last Mile Fulfilment (LMF)

Self-fulfilment vs courier/postal vs fulfilment centres
Documentation for self-fulfilment

Things to note when using a LMF service

Service Quality
Insurance and Claims
Ease of claim process
Speed of delivery
Cost

Comparison between the different major courier service (local delivery) in Singapore

Qxpress
Ninjavan
J&T
Speedpost
Singpost

Order Tracking and Integration

Tracking page
Email tracking update
SMS tracking update

How to Prepare for High-Volume Sales Period
Immediate Action Plan
What to expect and prepare for as sales volume increases

Assessment

Written assessment in English

Certification

Participants who fulfil all requirements will receive a Statement of Attainment (SOA) issued by the SkillsFuture Singapore (SSG).

Participants who are interested in learning how to setup their own Ecommerce store can find more information here : Lazada Ecommerce Store or Shopee Ecommerce Store
Course Feature

Course Feature

Course Provider: Cantley Lifecare Pte Ltd
UEN: 201703024G
Course Reference Number: TGS-2021003241
Mode Of Training: Classroom
Funding Validity Period: 19 Mar 2021 – 18 Mar 2025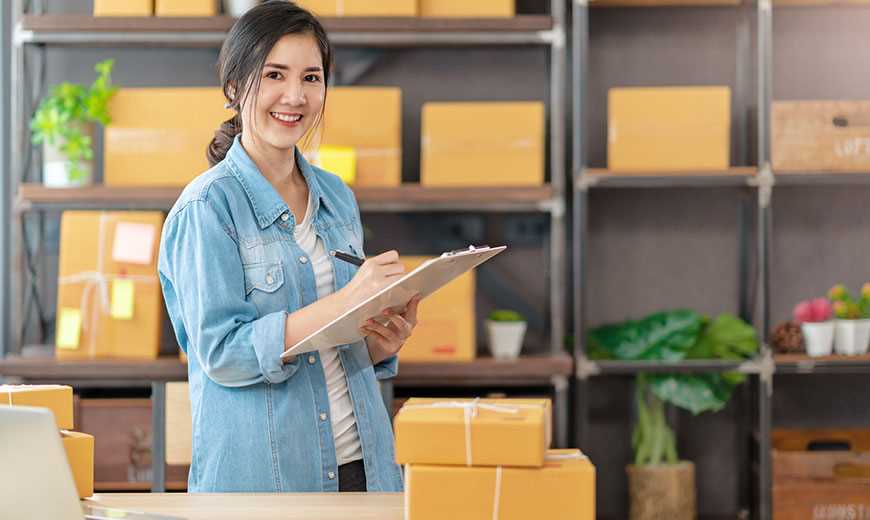 Ecommerce Supply Chain, Warehousing, Logistics & Fulfilment
FULL COURSE FEE
$695.50
Singaporean 40 yrs and above
$240.50
Singaporean 21-39 yrs / PR
$370.50
Duration
2 days
(16 hours)
Skillfuture and UTAP Eligible.
Available in: English
Contact Us On Whatsapp
Contact Us Now On Whatsapp
+65 6255 5584