How to Make an Impactful Business Presentation
What Skillset do you wish to acquire?
How to Make an Impactful Business Presentation
Course Overview
Influence & Engage the Audience with Impactful Business Presentations
Experience a transformation in your business presentations with our "Breakthrough Presentations to Influence all in the Workplace" course designed to tackle the real challenges professionals like you encounter. Say goodbye to presentation panic, struggling to find the right words, lackluster slides, and the inability to captivate your audience. Our comprehensive program addresses all these issues and more.
From crafting visually stunning slides to weaving compelling narratives, we equip you with the skills to conquer nervousness and project confidence through your body language. Our focus extends beyond mere delivery to fostering interactivity and engagement, ensuring your presentations leave a lasting impact on your audience. Moreover, we emphasize consistency in your approach, enabling you to create polished and professional presentations every time.
Our course distinguishes itself by offering a variety of dynamic activities such as group presentations, roleplay scenarios, and invaluable feedback sessions. Under the guidance of our seasoned trainers, you'll gain practical insights and discover effective solutions to the challenges commonly faced in business settings.
Unlock the power of persuasive presentations and take your professional journey to new heights. Enroll in our intensive 3-day classroom-based program, and with the added benefit of SkillsFuture Credit eligibility, invest in your future success today.
Course developed by the renowned Television-presenter, Steve Dawson. He has been associated with FOX Sports & ESPN STAR Sports for 20 years. He has been providing business presentation skills training to corporate professionals from more than 10 of the top companies across the world.
Course Title
Breakthrough Presentations to Influence all in the Workplace
Course Objectives
Identify the best practices in conducting the mapping of the persona of the individuals or teams to be engaged in a presentation
Establish the scope of content to be presented, in accordance with the target audience
Present content impactfully to engage individuals or teams.
Exemplify closed-loop communications strategies
How to Make an Impactful Business Presentation

Course Benefits

Methods of engaging your audience
Industry best practices for delivering presentations
Identifying topics according to the target audience
Designing and management of content representation
Presenting impactfully to engage individuals or teams
Seek clarifications and address questions raised by the target audience
Demonstrate close-loop communications with the target audience

How this course can help you:

Overcome nervousness & eliminate the overuse of filler words
Win over your audience with storytelling and interaction
Develop confident body language and facial expressions
Communicate clearly with accurate pronunciation
Be assured of political correctness while presenting
Change your philosophy with slides design and presentation
Master the art of data and information presented in slides
Craft visually attractive and attention-grabbing slides
Create consistency, start and finish your presentation properly
Influence your audience and hone your negotiation skills

Target Audience

Business owners and leaders
Departmental heads and leads
Business development officers
Sales representatives
Marketing specialists
Entrepreneurs & Innovators
Account managers
Anyone responsible for business presentations

Minimum Requirements

Academic Requirements:

At least 1 GCE 'N' Level pass
or equivalent WSQ/ Polytechnic Diploma

Literacy Requirements:

Achieve a minimum band of 4 in IELTS OR
Workplace Literacy (Comprehensive) Level 4 or equivalent in English

Certification

Participants who fulfill all requirements will receive a Statement of Attainment (SOA) issued by SkillsFuture Singapore (SSG).
Course Feature

Course Feature

Course Provider: AGB Education Centre Pte. Ltd.
UEN: 200810205H
Course Reference Number: TGS-2022015576
Mode Of Training: Classroom
Funding Validity Period: 07 Sep 2022 – 06 Sep 2024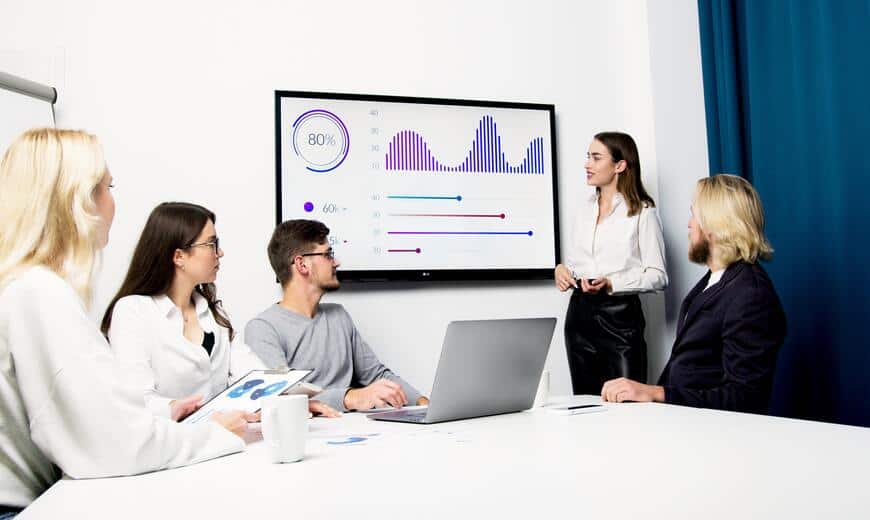 How to Make an Impactful Business Presentation
| FULL COURSE FEE | $1188.00 |
| --- | --- |
| Singaporean 40 yrs and above | $418.00 |
| Singaporean 21-39 yrs / PR | $638.00 |
| Duration | 3 Days |
Available in: English
Contact Us On Whatsapp
Contact Us Now On Whatsapp
+65 6255 5584