Leading as a New Supervisor
What Skillset do you wish to acquire?
Leading as a New Supervisor
Course Overview
Leading with Confidence
Are you new supervisor, leading a team of people who are more experienced than you? Do you hope to push for healthy changes within your team but are not sure how and where to start?
Whether you are leading a small team or multiple teams, training to become an effective supervisor is possible if you can appreciate the science and be shown the way early in your supervision journey. By developing leadership and effective supervisory management skills, you will be able to communicate with and motivate your team to perform, rather than constantly firefighting.
This course is part of the Office Management series on Coursemology.
Course Title
Leading with Confidence
Leading as a New Supervisor

What will you learn

Appreciate the roles and functions of a supervisor
Understand the critical success factors to having and sustaining a high performing team
Apply the coaching model to facilitate workplace learning and change
Use basic problem solving model to plan and prioritise workplace changes

Who should attend?

Supervisors, professionals in supervisory management roles, team leaders and assistant managers who aspire to be more effective leaders.

New Supervisor Training Course

What does being a supervisor mean?

Understand the change in roles and responsibilities of a supervisor
Common challenges faced upon taking up the role
Importance of lifelong learning for a supervisor

Leadership Styles

Understand the different types of leadership styles
Understand the different types of personalities
Appreciate the qualities of a successful leader

Working through others

Understand the different types of motivation based on Maslow's Hierarchy of Needs
Steps to creating a motivating environment
Creating synergies in teams

Sustaining high performing teams

Aspects of the onboarding process
The Commitment Curve
Managing performance

Coaching for change

The GROW Coaching Model
Managing change
The Dialogue Model
The Consequences and Benefits Matrix

Getting the problems solved

Understand and appreciate The Problem Solving Model
Explore the techniques of using The Problem Solving Toolkit
Prioritising problems

Making the right decisions

Understand the different types of decisions
Develop decision-making skills
Understand and avoid decision-making traps
Course Feature

Course Feature

Course Provider: EON Consulting & Training Pte Ltd
UEN: 201301501N
Course Reference Number: TGS-2020501622
Mode Of Training: Classroom
Funding Validity Period: 23 Nov 2017 – 21 Nov 2023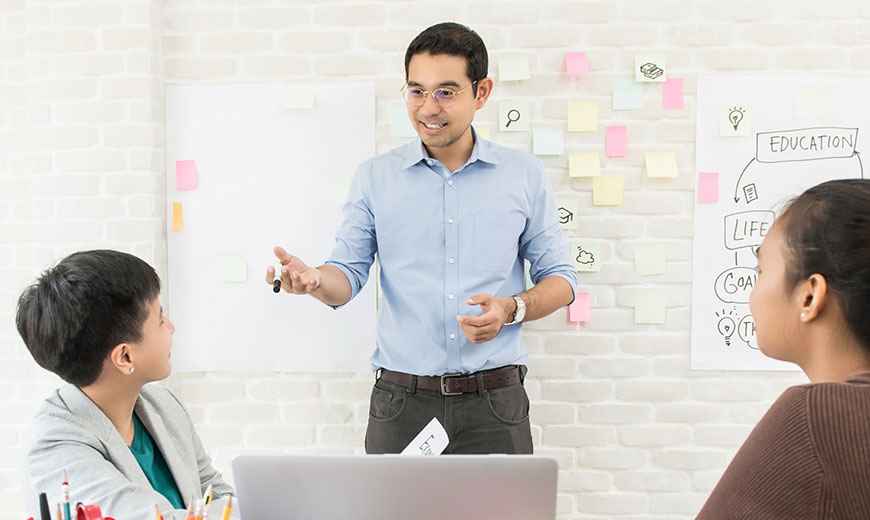 Leading as a New Supervisor
| FULL COURSE FEE | $766.80 |
| --- | --- |
| Singaporean 40 yrs and above | $766.80 |
| Singaporean 21-39 yrs / PR | $766.80 |
| Duration | 14 Hours |
Available in: English
Contact Us On Whatsapp
Contact Us Now On Whatsapp
+65 6255 5584