Basic Cardiac Life Support (BCLS) and AED
What Skillset do you wish to acquire?
Basic Cardiac Life Support (BCLS) and AED
Course Overview
BCLS Course (CPR + AED) Singapore
Basic Cardiac Life Support (BCLS) course is a concise training focusing on the use of Cardiopulmonary Resuscitation (CPR) and Automated External Defibrillator (AED) during emergencies. Basic Cardiac Life Support and AED is a nationally certified course and the guidelines are set by Singapore Resuscitation and First Aid Council (SRFAC).
For BCLS + AED instructor certification, please see BCLS + AED instructor course.
Why are CPR and AED usage learned in conjunction?
When CPR is performed, its purpose is to mimic the action of the heart and continue pumping blood through the body — transporting oxygen to the brain, thereby keeping it alive.
On the other hand, the purpose of the AED is to send electric shocks through the body in an effort to jumpstart the heart, allowing it to continue pumping blood to the brain.
Therefore, in the event of Sudden Cardiac Arrest (SCA) where there is a sudden loss of heart function, breathing & consciousness, both CPR and AED are required to ensure blood movement when the heart has ceased pumping and to restart the heart, respectively.
Course Title
Basic Cardiac Life Support + AED
Course Objectives: BCLS (CPR + AED) Course
Basic Cardiac Life Support + AED Provider Course will teach participants to:
Understand cardiac arrest
Understand the rescuer's role in the chain of survival
Demonstrate competency in providing Cardio Pulmonary Resuscitation (CPR)
Perform CPR and operate AED competently, confidently and safely
Recognize and manage Foreign Body Airway Obstruction (FBAO)
Basic Cardiac Life Support (BCLS) and AED

Course Content: BCLS (CPR + AED) Course

What is Cardiac Arrest
Chain of Survival
Cardio Pulmonary Resuscitation (CPR): Adult, Child, and Infant
The Importance of Early CPR
The Recovery Position
Automated External Defibrillator (AED): Public Access Defibrillator Usage
The Importance of Early Defibrillation
Post-Incident Procedures
Child and Infant Defibrillation
Foreign Body Airway Obstruction (FBAO): Adult, Child, and Infant

Who Should Attend

Medical & Healthcare Professionals (Dentist and Clinic Assistants)
Childcare Professionals in learning Infant and Children resuscitation
Individuals interested to become Basic Cardiac Life Support (BCLS) + AED Trainer

Entry Requirements

Able to speak, read and understand English effectively as our courses are conducted in English.
No history of underlying medical heart and lung conditions
Physically fit with no pre-existing medical conditions such as knee, spinal or joint injury.
Pregnant ladies are discouraged from undertaking the CPR practice due to safety reasons.

BCLS Certification

BCLS + AED certification will be issued after this course (Valid for 2 years)

If you're interested to learn more emergency first aid procedures/ attain the relevant certification, see our other First Aid Courses →
Course Feature

Course Feature

Course Provider: Medlink Healthcare Group Pte. Ltd.
UEN: 201703314W
Course Reference Number: TGS-2021008478
Mode Of Training: Classroom
Funding Validity Period: 19 Sep 2022 – 15 Apr 2025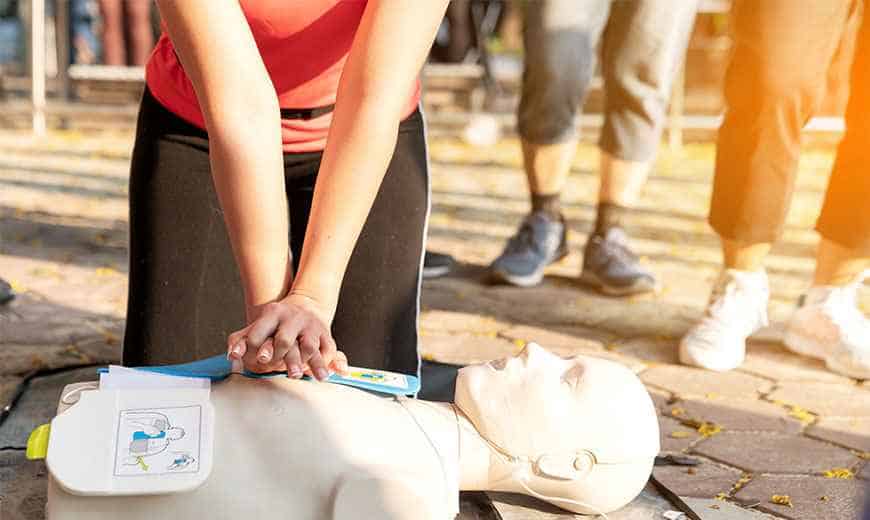 Basic Cardiac Life Support (BCLS) and AED
| FULL COURSE FEE | $149.04 |
| --- | --- |
| Singaporean 40 yrs and above | $52.44 |
| Singaporean 21-39 yrs / PR | $80.04 |
| Duration | 1 day |
Available in: English
Contact Us On Whatsapp
Contact Us Now On Whatsapp
+65 6255 5584